Experience Tranquillity and Luxury at Tarangi Resort: The Ultimate Relaxation Destination
Nestled in the heart of the Jim Corbett National Park, Tarangi Resort is a luxurious oasis that offers guests the ultimate relaxation experience. Surrounded by breathtaking natural beauty, this resort is the perfect destination for those looking to escape the stresses of everyday life and unwind in a tranquil and peaceful setting.
Situated in the Village of Dhikuli a few kilometres away from Jim Corbett National park's main gate. You can enjoy park wildlife and nature from the resort's perfectly situated location. If you are an adventurer seeker and nature lover then the resort location is perfect for you that includes tiger safari, bird watching, and nature walks.
Tarangi Resort has luxurious facilities to help our guests relax and loosen up and a number of other activities which set Tarangi apart from other luxury resorts. Our resort's attentive and welcoming personnel will welcome you upon your arrival, look after your requirements to the best of their ability, and ensure that your stay is as comfortable and pleasurable as possi
We have a variety of rooms available from snug cottages to commodious suites each and every room is equipped and beautifully decorated with all the utility you need for a congenial stay. All rooms are sanitised and designed to keep your peace and relaxation in mind, with dim light, comfortable beds, and plushy furniture.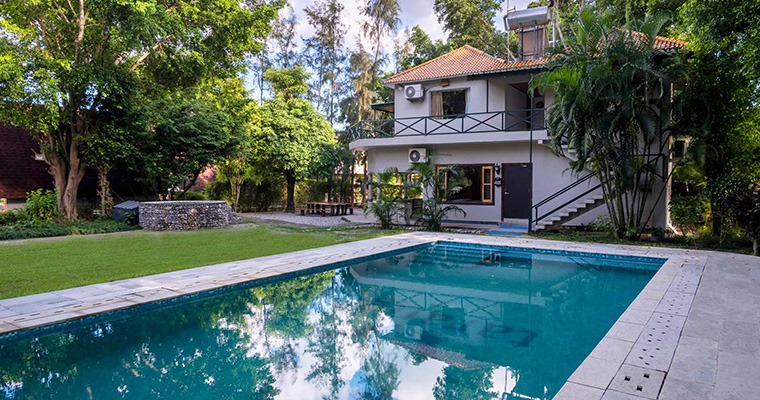 Outdoor Pool and Spa
One of the significant highlights of our resort is the Outdoor pool and spa. The resort spa offers a variety of treatments that are tailored made to relax your mind and soothe your body together with facials, massages, and body scrubs. The finest natural ingredients used by our professional spa therapists, including essential oils and herbs, help guests rejuvenate and relax.
Another standout feature is the resort restaurant. At Tarangi Resort we serve a range of local specialties and delicious cuisine and dishes from all around the world. The chefs at our restaurant use ingredients from local markets and provided freshly from farms to make a healthy and flavorful menu for you. You can enjoy your meal with the breathtaking view of the Kosi river that goes through the property and surrounding mountains.
Community and Programs
At Tarangi Resort our top priority is our community and the people around us which is why we run various wellness programs for our community and employees. We have trained and professional individuals who provide short term programs that help reduce stress, and address specific health concerns or lifestyle improvements.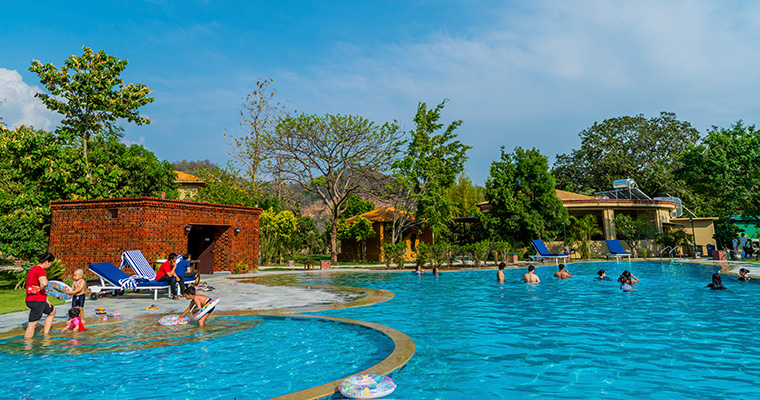 Activities
For people looking for activities during their visit, we at Tarangi Resort have a variety of things to offer like taking a yoga class to help calm your body and mind, going for a jog in the resort gardens, or taking a dip in the resort swimming pool. Also, the resort's location is ideal for river rafting, fishing, trekking, and many more outdoor activities.
The best thing about Tarangi Resort is the sense of tranquillity and peace. The Luxurious amenities of the resort combined with serene surroundings, and very attentive staff makes it an ideal place to unwind in a peaceful and relaxing place and escape the stress of everyday life.
For adventurers who like action Jim Corbett National Park provides a variety of attractions and activities. Corbett National Park is home to a wide range of wildlife like elephants, tigers, and leopards.
Overall, if you're looking for the ultimate relaxation destination in the heart of the Jim Corbett National Park, look no further than Tarangi Resort. With its idyllic location, luxurious amenities, and attentive staff, this resort is the perfect place to escape from the stresses of everyday life and experience true tranquillity and luxury. Whether you're looking to explore the park's wildlife and nature, or simply unwind in a peaceful and relaxing environment, Tarangi Resort has everything you need for a truly unforgettable getaway.